Best viewed in html format
Important note for Gmail users.... Gmail does not format these emails correctly. If today's newsletter looks wrong somehow, you know why. I did my best, but Gmail is not reliable when it comes to formatting newsletters correctly.
QB training products on the way to you!
I'm so excited! I'm getting ready to launch some important QuickBooks training products.
Many of you have asked me for QuickBooks training products. I have heard you and will be launching them soon!
I want you to be a QuickBooks expert like me - I hold nothing back in my products and include tons of explicit text and full color screen shots.
Plus they are so inexpensive! Learn what I know at a tiny fraction of the cost to have me teach you in person.
More soon.....
Dear <>,
Is your business hurting for cash income?
Here's how to excavate QuickBooks to earn more cash income.
---
Struggling with QuickBooks?
Nationwide Bookkeeping Offered
Contact me today and we will get your QuickBooks problems solved. I guarantee your satisfaction. Check out my testimonials!
Are you tired of:
...daily bookkeeping chores?

...the uncertainty of your financial reports?

...paying more in taxes than you are required to pay?
There's no need to struggle. Contact me today. Clients served across the nation.


---
Today's topic:
Get More Cash Income Opportunities from QuickBooks.
Is your business struggling financially? I hope not, but unfortunately, many are.
One way to increase your profit is to lower your expenses.
Another way is to raise your income.
Let's talk about raising income.
Open QuickBooks. Go to the Reports menu. Select Customers & Receivables, then select Customer Contact List. QuickBooks creates a report showing contact information for your customers.
Click the Modify Report button. Under the Display tab, you will see a Columns box. The second choice says Active Status. Place a check mark next to it.
Click the Filters tab. The first choice is Active Status. To the right are three circles:
Select the Non-active circle. Make other modifications as you wish. Click OK.
---
Customer Prepayments
...do you record them right?
Click here to download the pdf now..
If you need to accept customer prepayments, do you know how to record them in QuickBooks?
There are two ways to do it.... do you know them? Do you know which is easier?
Do you know to track vendor costs against the prepayment?
Are you paying tax on the prepayment? This is most likely wrong!
Click here to read more and download my pdf right now.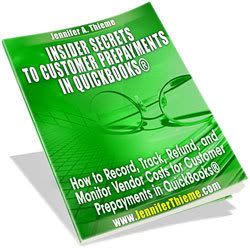 Only $37
Become a QB expert like me and learn what I know about customer prepayments. I hold nothing back!
---


.....QuickBooks now displays all of your non-active customers.

Go through this list and examine each one. Ask these questions:
Why is this customer inactive?

What can I do to reactivate this customer?

Can this customer be a source of referrals?

Can I offer an incentive for referrals?

What kind of incentive can I offer for this customer to return to me?

Did I do something to alienate this customer?

Any other question you can think of to get this customer back!
Once you've brainstormed your questions and answers, craft a well written phone script and/or email, based on your answers to the above questions. Write about your incentives, ask for referrals, offer an apology if needed.
Start calling and emailing these people. Call and email several times over the next month.
They needed you before... they may need you again. Don't give up.
It's a well known fact that it's easier and more cost effective to keep customers than find new ones...
... so use QuickBooks to help you!
Let me know how it goes... please keep in touch.

Your friend....




P.S. <>, I need your help. Do you like this newsletter? Please forward it to all your friends and colleagues who use QuickBooks. Thank you!
P.P.S. Remember... QuickBooks training products coming soon!


QuickBooks is a registered trademark of Intuit, Inc.





P.O. Box 3303
Vista, California, 92085
USA